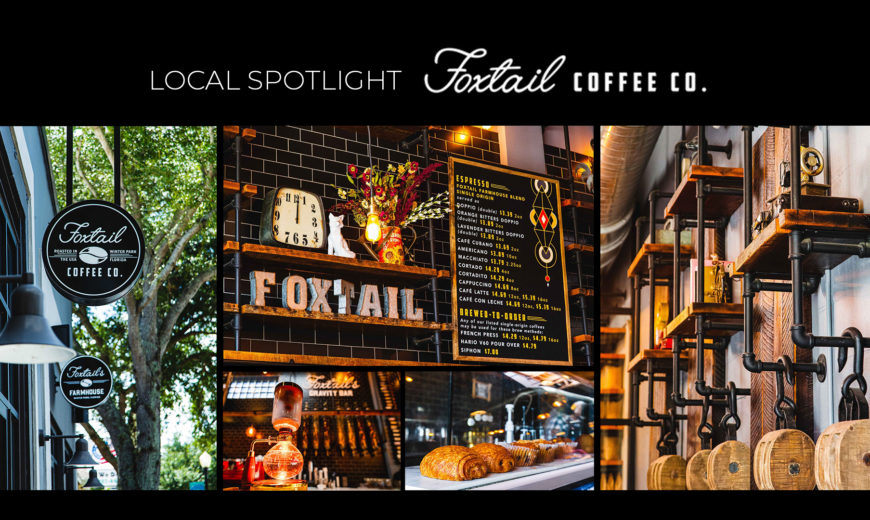 I In order to give our followers an in-depth look at some of the top Central Florida businesses, the 360 team has begun to do some 'mystery shopper' type reviews so that you know exactly what to expect when you visit a new location or business. The first business we are doing is Foxtail Coffee and Farmhouse, a popular coffee chain with multiple locations throughout the Orlando, FL area.
Foxtail Coffee's flagship location is in Winter Park, Florida, where it is surrounded by a plethora of businesses and is within just a short bike ride to Rollins College.
Coffee aside (we'll get to that later) its customers go there for the delectable food and baked goods, as well as the unique design and relaxed atmosphere.
The Look – What You See The first thing you encounter in all of their locations is a massive bar. Here guests can view their numerous coffee products, as well as all of their baked goods and food items on display (they have everything from quiches to vegan donuts!). The entire site has a great layout where people can feel comfortable going there to work and chill out for a few hours. Foxtail has ensured that it has plenty of seating options available, which come in the form of comfy, leather sofa chairs and wooden tables with earthy tones. All of this together ties into its unique look and feel. The interior design of Foxtail Coffee is very industrial with dark tones mixed with gold, giving the space a very warm and relaxing feel. At their Farmhouse location, they also showcase a huge wall full of spirits, where you can go to wind down after a long day of work.
But the most impressive thing of all is their gravity bar. This bar creates a great experience for guests, as you get to see coffee being brewed in the coolest ways from your very own barista. As far as their product offerings go, we've got to give it to them. Foxtail has everything a coffee lover could want, from your regular black coffee all the way to complex flavor mixes like their pumpkin spice chai latte (seasonal). The experience of watching the siphon making your coffee in front of you is completely unique, and after about 5-7 minutes, you have a full cup of coffee ready to warm you up.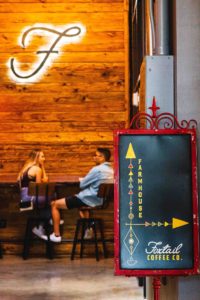 The Ambiance – What You Hear Walking into Foxtail Coffee one is almost always greeted by someone working there. If you are ready to order then you can trust that you will be taken care of almost immediately, and their extremely friendly staff makes for a pleasant visit.
Coffee = Making friends and having good conversations
The music is always different, with no noticeably set playlist, and the volume is set at a so that it creates the perfect coffee shop ambiance. Foxtail Coffee can get a bit loud at its peak hours, but usually provides a very nice place to work or study in.
The Feel Foxtail Coffee has worked to create a space that is very inviting and comfortable to be in. It can get a bit hectic at times due to its popularity, but it's nothing that sitting next to fellow coffee lovers and having a good conversation can't fix. The volume of people there depends on the time of day you go, but when visiting any Foxtail location you can expect it to be medium – busy.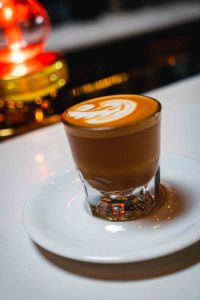 The Taste The coffee you get from Foxtail Coffee is delicious and satisfying. or as we put it, simply amazing. You can definitively taste the quality of the coffee brewed here, which justifies their value proposition. What we have ordered: cortadito/cortado, chai lattes, expressos, café con leche, and tea.
As touched on earlier, they also have a very enticing selection of food and baked goods, which is full of both sweet and salty options to choose from. What we have ordered: their (vegan) donuts and quiche – both of which were delicious. What we found from visiting Foxtail is that they offer varied taste profiles that will cater to anyone looking to accompany their coffee with some yummy snacks.
That Sweet, Sweet Smell of Coffee There's not much to say here. We all know how wonderful, relaxing, and happy the smell of coffee can make us, and Foxtail is no different. Step inside for some fantastic smells that will instantly perk you up!
It all flows very well between the décor and the smell of fresh-brewed coffee going by you every time they finish making one. It is always very clean too.
The Bottom Line Would we recommend you try Foxtail Coffee and Farmhouse? Yes, we have been 100% satisfied every time we have been there!
It may not be the cheapest cup of coffee you can get, but the quality of the coffee plus the overall experience gives it its value. 360 SensoMedia actually holds many business meetings there, and we recommend it to anyone looking to work from a nice space or simply experience coffee a bit differently. Freelancers, business owners, and local commuters seem to be the usual demographic here, and its various locations throughout Central Florida make it very convenient for locals.
We have always received good, consistent service from a well-trained staff, and the variety of products offered is great for any kind of day you are having.
Awaken your senses, and experience Orlando through our lens! Learn more