When you look for kayak tours in Florida, you can't ignore Rainbow Springs. A place where nature takes you away from reality. Plus, the clear kayaking experience with Get Up and Go Kayaking is truly one of a kind.
Paddling upriver, surrounded by lush green trees with the sun up above, no one would ever suspect that this could be a challenge!
However, we're sitting on clear kayaks and the water is crystal clear, giving fantastic views of the marine life below. The Get Up and Go Kayaking tour lasts about 2 to 2.5 hours, depending on the speed of the group and any wildlife that we may see along the way. This adventure is great to disconnect and enjoy nature clearly.
Receive 5% OFF your next clear kayaking adventure in Rainbow Springs or Silver Springs. Use the code 360SENSO
Turtles jumping into the water and some basking, looking as if they are doing yoga on top of the branches. As soon as you sail into the Rainbow River, shouts of "oh wow! The water… it's so clear. You can actually see through the kayaks!" fill the air. But the tour is just getting started!
Rainbow Springs is a first-magnitude spring – ranked fourth in the state of Florida for its volume of discharge. On average, 800 million gallons of fresh water are pumped daily into the entire length of the river. There are springs located at the headwaters, smaller springs leading out from numerous, hidden caves, rock crevices, and sand boils.
The river has plenty of wildlife as well! There are over 14 types of birds to be seen out there, including Great Blue Herons, Hawks, and Cormorants, as well as some bass and plenty of turtles. We've even seen otters catching a breath as they swim right by us! It's a total wildlife immersion kayaking tour!
But it gets better! The farther upriver you go into the Rainbow Springs, the bluer the water gets. The spring's clear water is 72 degrees Fahrenheit year-round – always the perfect temperature!
If you're looking for some added excitement, there's even a tree with steps that can easily be climbed and used to dive into the crystalline, fresh water. Snorkelers will pass right by you and you'll see flags in the water identifying divers in the area. But don't worry about them, they're too busy looking for fish than looking at you!
Halfway through the tour, your guide is going to ask if you want to stop for a nature walk. During the walk, you will find picture-perfect spots. Plus, you get to dive into the water.
When the tour is about to end, it's time to head back to the launch area. The river's current is steady and precise, pushing everyone downstream at a nice pace. The scenery is breathtaking, and a serene quietness is setting in as you enjoy nature at its prime. Birds are flying right by you, and you're not even paddling much, you're just breathing it all in. A perfect day full of beauty and relaxation. Once you start on this journey, be ready for lots of great local nature and wildlife along the way!
The Rainbow Springs river will be there to take you away from reality over and over again. And, the local restaurants and bars will provide you with the necessary fuel you need after the clear kayaking tour.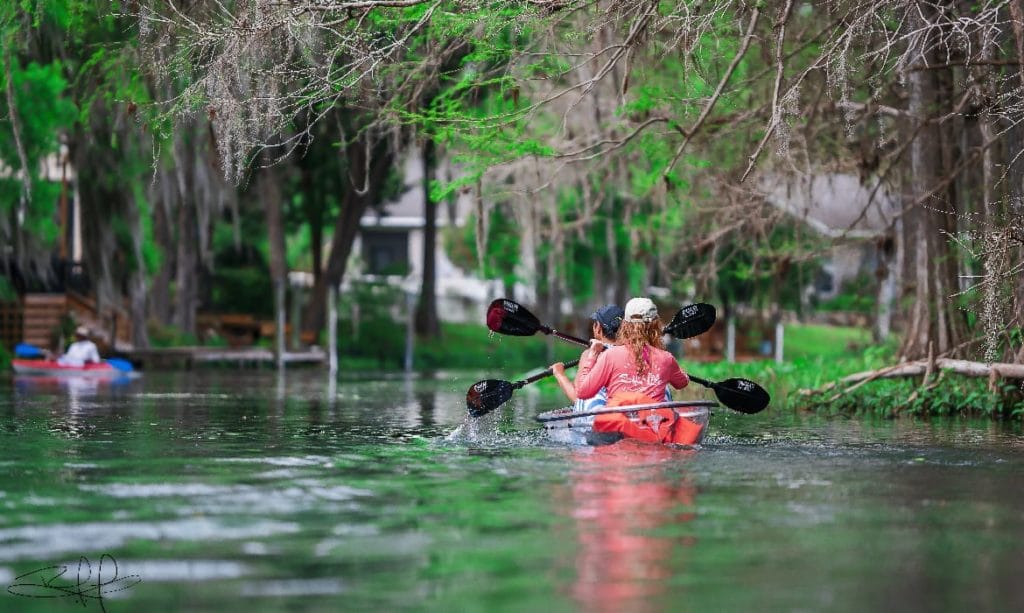 Ready for your clear kayaking experience with Get Up and Go Kayaking? Use discount code 360SENSO and receive 5% off your next adventure. Promotion only applies to Rainbow Springs and Silver Springs.
What you should bring to kayaking tours in Florida:
Sunscreen
Hats
Water Shoes
Water
Swim Wear
Camera
For more information visit:
Get Up And Go Kayaking – Rainbow Springs
Looking to create content for your brand? We can help you!